Green and Orange
Biography Information
Name

Green and Orange

Gender

Males

Species

Sentient Cupcake

Occupation

Gladiator
Emergency Ghost Transit

Relatives

Each Other(Brothers)

Introduced In
Latest Appearence

See gallery

The Battle Cupcakes were designed by Danny Vasquez, to house the team's Post-Mortem consciousness in case they ever died, so that he could reconstitute their bodies.
Gladiators
The Battle Cupcakes were built originally to fight to the complete and utter death. Orange won.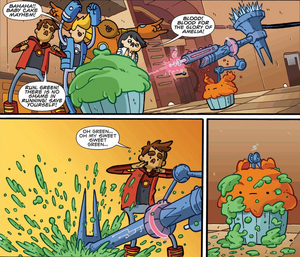 Ghost Transistors
Danny later reveals that he had secretly installed microchips in everyone's head to keep their consciousnesses running after their demise, and that the cupcakes are capable of carrying them. Sadness, the villain encountered in Issue 2, reconstituted Green so that she could chase after them, while they rode in orange.
Gallery
Ad blocker interference detected!
Wikia is a free-to-use site that makes money from advertising. We have a modified experience for viewers using ad blockers

Wikia is not accessible if you've made further modifications. Remove the custom ad blocker rule(s) and the page will load as expected.