"Hey man!"
This article is a stub. Please help the Bravest Warriors Wiki by expanding it. Thanks!

Catbug's Treasure Book is a book published by Perfect Square and with association with Thousand Eyes Inc. that focuses on Catbug and how he sees the world.
Plot
The book doesn't have a plot but instead takes form in more of a diary or scrapbook with many stories within it. The starts with Catbug receiving a gift known as FEELEX which operates as a diary. Throughout the book, we get various stories such as one about Catbug as a detective searching for Wallow, an ad lib story where Impossibear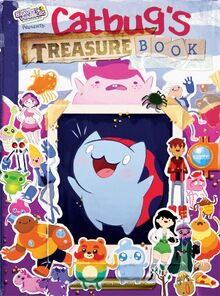 Ad blocker interference detected!
Wikia is a free-to-use site that makes money from advertising. We have a modified experience for viewers using ad blockers

Wikia is not accessible if you've made further modifications. Remove the custom ad blocker rule(s) and the page will load as expected.