Mitch
Biography Information
Name

Mitch

Gender

Male

Age

Unknown

Species

Hamster

Occupation

Herald of The Worm (Formerly)

Relatives

Johnny Tezuka (Owner)

Introduced In
Latest Appearence

See gallery
Mitch is a recurring character in Bravest Warriors. And one of the Aeon Worm's hamster.
Biography
Mitch is a small hamster who was losing his mind in "
Season of the Mitch
". While
Chris
, Beth and Wallow were following him to the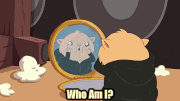 Aeon Worm's hiding spot, they noticed his mood was constantly changing as if there were two people inside one person.
Later in the episode, it is revealed that it was the Paralyzed Horse that was trying to take over his mind. Horse took control of Mitch to save Beth. Since his real body was trapped in another realm. After Mitch(Horse) helped Wallow, Danny and Beth destroy Johnny Tezuka's belt (that the Aeon Worm was trapped in) Horse left Mitch's Mind and he returned to normal.
Appearances
Ad blocker interference detected!
Wikia is a free-to-use site that makes money from advertising. We have a modified experience for viewers using ad blockers

Wikia is not accessible if you've made further modifications. Remove the custom ad blocker rule(s) and the page will load as expected.